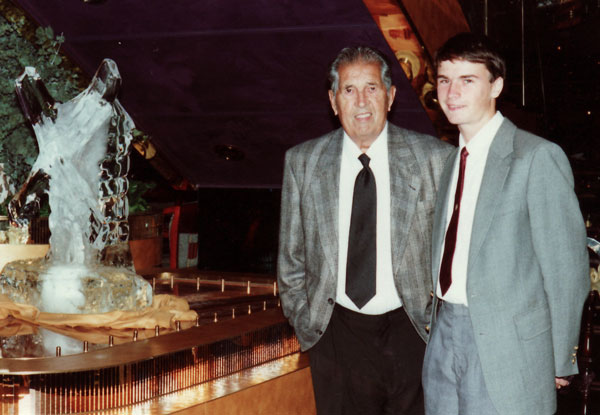 September 14 is my Grandpa's birthday. Cal Mohr has been in heaven for more than five years now, but his influence on me and on his family is still strong. He loved us, and we knew it. He helped shape who we are.
He started working for Portland General Electric at age 16 patching sidewalks, and he retired as a hard-working and well-respected line foreman. He was one of the guys who goes out during the storms and works day and night to get your power turned back on.
Not only was he hard-working, he was amazingly creative. He lived on 27 acres of forest in an A-frame he built by himself out of power poles. He'd also built a picnic shelter, a woodworking shop, and a swimming pool, and he'd blazed lots of trails through the woods. Grandpa's place was a woodland paradise for me and my brothers growing up.
Most importantly, he encouraged us in everything we did. He was always ready to sit back and listen to us play our music, or to look at the latest model airplane I'd built. He always took an interest in what I and my siblings were doing, and he rarely criticized or found fault in what we did (unless we were about to harm someone with a power tool, or fall a tree in the wrong direction!)
When he inspired me and my brothers to build a log cabin on his property, we learned a lot about tools, trees, and American history, all while helping him accomplish one of his unfulfilled dreams. We had a blast.
Grandpa and Grandy were always thinking of others. They prayed for us constantly. They modeled faithful service in their church, and they touched many lives besides ours.
I missed the active seasons of Grandpa's life, but he loved to tell stories and to just sit and talk with me. He's one of the people who counseled me to work with my parents and carry on the publishing work at Doorposts.
He honored his parents. He spoke highly to us of his father and mother, who immigrated from Austria and worked hard to raise him and his ten brothers and sisters.
Grandpa wasn't perfect. He made mistakes, but God didn't let go of him. Grandpa loved us fiercely, because he knew how fiercely God loved him.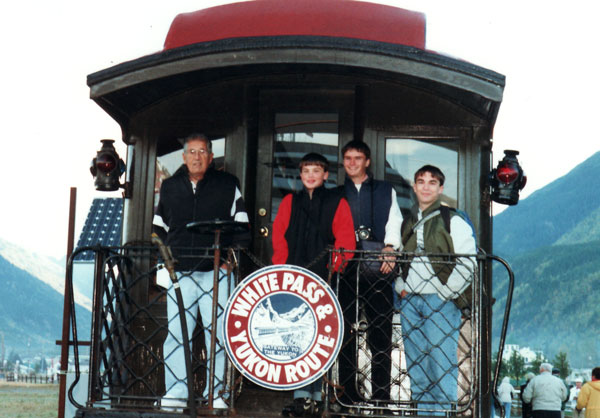 Giveaway! (CLOSED)

One of Doorposts' books, For This Is Right, is dedicated to my Grandpa. To celebrate his birthday AND our first 6 months of blogging (as of today!), we are giving away two copies of this book, a tool that helps children study and apply the 5th Commandment.

To enter the giveaway, please comment on this post, and share how one of your grandparents influenced you, or something you respect about a grandparent. This should be fun! (The giveaway is now closed, but feel free to comment, or read some of the great memories that have been shared already.)

Rules:

Limit one comment per person. Two random winners will be drawn at 9:00 AM PDT tomorrow (Friday, Sept. 16). The winner may alternately choose to receive the book

Honor Your Father and Mother

, which is written to younger children ages 2-12.

« «