It's almost here! Our Bible Drama video contest concludes tonight, at the Facebook party where we will announce the winners!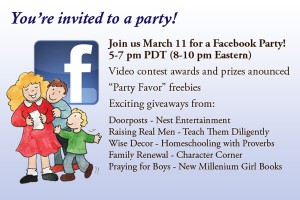 This evening, from 5 to 7 PM Pacific time (8-10 PM Eastern), we'll be partying over at Doorposts' Facebook page. Join us as we announce contest awards, share free "party favors," and offer fun giveaways from other Christian homeschool businesses, including:
Raising Real Men & Great Waters Press
Wise Decor Decorative Lettering and Wall Decals
Israel Wayne of Family Renewal
Brooke McGlothlin of The MOB Society
Teach Them Diligently Convention
…and of course there will be Doorposts giveaways too!
Make some fresh cookies and get ready to join in on the festivities this evening!
You can RSVP to the event here (feel free to invite your friends too!). Then come on over to Doorposts' Facebook page any time after 5 PM PDT (8 PM Eastern). We will begin posting giveaways and having discussions right away, and you're welcome to join in!
See you at the party!
(If you can't make it to the party, or if you aren't on Facebook, you can still come back to the blog on Wednesday to see the contest results and enter any giveaways of interest. We'll keep them open for at least 24 hours.)

« «