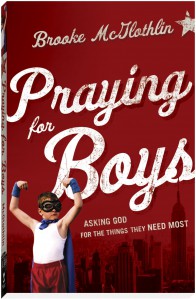 In Praying for Boys: Asking God for the Things They Need Most, Brooke McGlothlin teaches us to discover delight in the chaos of raising boys, and helps us have more peace in our hearts and homes.
Praying for Boys will:
Help you stop hovering, and start covering.
Give you permission to wave the white flag, while empowering you with the tools you need to keep going.
Help you recognize your value and power as a praying mom.
Overcome feelings of failure, and walk in confidence as a mom.
What you'll find in Praying for Boys:
A new, enhanced view of why praying for boys is so important.
A deeper understanding of what prayer is and why we should do it.
An entire chapter devoted to moms going it alone, with practical applications for both the physically and spiritually single mom.
Over 200 topically-organized, Scripture-based prayer prompts for 21 areas in which boys struggle the most.
A guided 21-day prayer challenge for moms to pray with other moms and encourage each other, in person or online.
Value $12.99

Visit Praying for Boys on the Mob Society Facebook and Pinterest.

« «